Thanksgiving and a lot of cool stuff happening
OK, I haven't posted for a long time because I have been really busy. Too busy, in fact to make a video. However, I have a lot of cool raw video that I will be putting up here soon once I get the time to make it into something that isn't boring. Anyway, some of the cool things that have occupied my time in the last few weeks are - a big company meeting that featured my babies (that I have video of), a talk I had to give in church on gratitude, and Thanksgiving.
First thing I want to say is how grateful I am for all of the night shift people we have had over the past few months. Rachelle and I took our first turns at the night shift last week for a few nights and we quickly realized that had we been doing that every night for the last 3 months, we would be totally crazy. It isn't as bad as it used to be because the babies are starting to have a better schedule but it was still bad enough that it would wear us out really fast if we had to do it every day.
The next thing I want to talk about it football. We were watching the UT vs. Texas A&M game last Friday and as I was watching it, I was really surprised to look up and see one of my babies on the TV during the commercial break. After a moment, I realized that it was a commercial for an upcoming special report about our babies on KVUE (ABC) on Monday Nov 26th at 6:00 PM. One of Rachelle's cousins who was visiting us was shocked about how that kind of stuff didn't totally freak us out. I guess it was a little weird but kind of cool at the same time.
Also, speaking of football, I have to mention here that BYU beat the University of Utah (their big rival) this year in a very dramatic finish. I didn't actually see the game but I watched the score update on ESPN.com. I chose not to watch or listen to it live because I have learned that doing so really upsets me. The University of Utah is our nemesis and it always bugs me when they beat us (which has happened a lot in the past 6 or so years). Anyway, BYU won and I think it might be partly because of the clothes we put on the babies.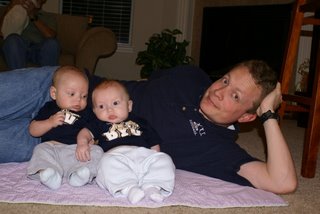 Another really cool thing that happened this week was that we went to Rudy's. For those of you not from these parts, Rudy's is a really good barbecue place here in Austin (and a few other places) where we like to go. Rachelle's brother Ryan was visiting so we decided to take him there. However, because we didn't have any volunteers for that time, we decided to take the babies with us for their first big outing.
It was a little crazy going there but we made it OK. When we walked in, a few people stared but we assumed they probably thought we just had a few families together with a bunch of babies. Anyway, we put them all in the back of the restaurant and had Rachelle's mom go and order the food. As she was ordering, she realized that she probably wouldn't have enough cash to pay for it so she asked Ryan to go get some from me. While he was going, the manager of the store asked her if she was with us. When she said "yes", he said that our meal would be on the house and kept insisting that we order a little bit more. He was really nice and it turned out that he has twins and understood what was going on with us. A little later, he asked to take a picture of the babies with a bunch of Rudy's Barbecue sauce bottles for their wall of fame. We said, "Sure", so they brought out their camera and took some pictures then gave us all of the bottles of sauce. It was very nice. Here is a picture of the event: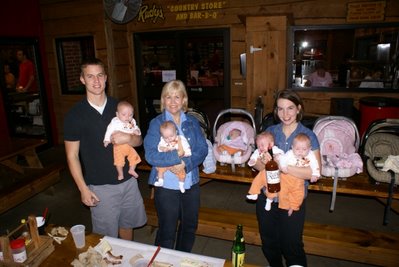 Other than that, we had the baby blessings for our babies today. Rachelle will talk about that so I will just mention it briefly here. In our church, we give baby blessings to newborns to kind of get them started off right. The blessings are given in our "sacrament meeting" which is the big meeting we have with everybody. The person that performed the ordinance was me and doing five was a bit of a challenge. We had a bunch of people come which was really great but I am sure that Rachelle will talk about it.
Something I wanted to also share were some TV news stories that happened over the last few weeks:
Here is one from News 8 Austin that they were showing on Thanksgiving day (the link to the video is down near the middle of the story):
Link to news 8 story
Here is also one from KEYE that they showed last week (the video is on the right of the story)
KEYE story
Labels: blessings, byu, football, quintuplets, rudys