My Last Grandparent
Last Thursday, my grandpa, Victor Nelson, died at the age of 90. He was my last living grandparent. He was also one of the ones I knew the best. His funeral is today and, sadly, I am not there. I feel really sad about this so I want to devote this entry to him.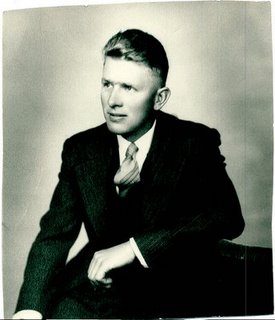 Some of my earliest memories of Grandpa Nelson come from our visits to his house in Sandy Utah. He was a carpenter and a great craftsman. When we would visit, he would often give us a block of wood, a hammer, and some nails which would keep my sister and me occupied for a long time. He had a great reading voice and could captivate an audience when reading just about any book. He also had a great singing voice. He sang with the Mormon Tabernacle Choir for a number of years and instilled in my mom a great appreciation of beautiful music.
He had a good sense of humor and liked to laugh but he also had a sadness that always seemed to be there under the surface. I think this was because my grandmother, who I never knew, died of cancer when my mom was about 13 years old. This was extremely difficult for him and my mom thinks that he never really fully got over it. I assume that he is now over that. What a great reunion that must have been.
When I was 19, I stayed with my Grandpa and My Step-Grandma for about a week. This was because, for some reason I can't remember, I had been officially made a missionary a week before going in to Missionary Training Center in Provo, Utah. When you are made an official missionary in our church, you have to obey certain rules. One of those rules was that you had to have a companion with you wherever you go (partly to keep you from getting into trouble). During that week, my Grandpa was my companion and I got to know him a lot better. He told me stories about things that had happened in WWII, things that he had learned in his life, and some stuff about my mom growing up. Spending that time with my grandpa was probably one of the best things I could have done just before embarking on my two year, trail by fire, entry in to manhood. Talking with someone who had been through a lot gave me confidence that I could make it too.
In more recent years, my Grandpa suffered from dementia and didn't really remember me. I visited him a few years ago and talked with him about his childhood. I found out that he grew up in Brigham City Utah and that his father died when he was very young. His mom had to feed the family by cleaning clothes and apparently barely scraped by with little money and little help from other people. He did not look on his childhood with fondness and I think it was really frustrating for him during his last years to not recognize anybody and not understand what exactly was going on.
I take comfort in the thought that he is with his wife Louise and that they are finally reunited after all these years of separation. The posterity he helped create, includes some incredible people and I hope he recognizes that now. Many of his children and grandchildren are some of the most faithful, talented, and resourceful people I know. I assume they are watching over my family and having a good laugh right now over all the craziness at my house.
God be with you til we meet again Grandpa,
Jayson
Victor
Wilkinson
Labels: grandpa